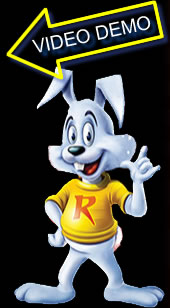 Rabbit Rampage is an updated and modified version of the classic Farmyard Frolics (Edwin Hooper) style children's effect, but with a big twist at the end. Great fun where Rodney the magic rabbit vanishes and appears in a funny comical routine with a different ending to the original.


More details:
All Razamatazz Magic produced tricks are 100% British made supporting local businesses.




Hints and tips for this trick
Hints and Tips for This Trick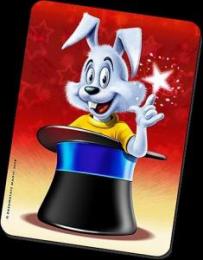 Description
An updated and modified version of the classic Farmyard Frolics (by Edwin Hooper) style children's effect, but with a twist at the end.

Great fun where Rodney the magic rabbit vanishes and appears in a funny comical routine with a totally different ending to the original. After Rodney rabbit vanishes, the magician canít see the rabbit peeping out of the side and top of his magic hutch. There is much audience participation as the children waste no time in shouting out where he is. Trick concludes with a surprise magical ending.

This is a great trick with a magical theme for todayís childrenís entertainers. Modern, colourful and keeps the children laughing and shouting in a controlled way that is a fun to see. We have taken a tried and tested formula. Improved it and now we are proud to present this greatly enhanced set. You will be amazed at how stunning this looks. Never before has a children's prop looked so good.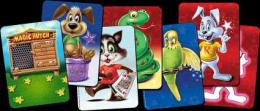 Apparatus Supplied
We have worked very closely with one of the UK's top illustrators to bring you a fun, eye catching, magic trick. In the pack you will receive an attractive giant magic rabbit hutch and set of animal cards with the most beautifully illustrated characters you will ever see in any childrenís effect, all superbly made. The whole set comes in itís own special hard wearing PVC carry case for easy transportation. Which will help protect your set for many years.

This is an absolute must for any professional or amateur childrenís entertainer. Please read comments from buyers at bottom of page.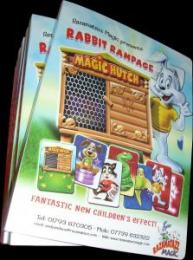 Summary of Effect
A folder is shown with a picture of Rodney Rabbit's Magic Hutch. Inside there is a picture of a giant Magic Hat. However the hat is completely empty and Rodney is nowhere to be seen..

The children are asked if they know what a magic rabbit looks like?

The performer says he will show the children a magic rabbit, and proceeds to show the children a number of brightly coloured cartoon animal pictures until they find the right one. As the animals are shown, the children are encouraged to make the various animal sounds. Finally a picture of Rodney Rabbit is shown. Would the children like to see Rodney the Rabbit do a clever magic trick? Of course they do, so the Magic Rabbit is turned face down and placed on a stand and then covered with a brightly coloured silk. Or any other easy method.

After a lot of fun Rodney Rabbit is made to disappear. Everyone thinks the Rabbit is in the Magic Hutch but unfortunately he is still nowhere to be seen. Suddenly the children spot the cheeky Rabbit peering out of the side of the magic house and then the other side. Of course the children take no time in telling the performer this fact but every time the performer looks the Magic rabbit hides back inside.

After much fun and laughter and another magic spell the Magic rabbit is eventually found in the hat after all with a big cheer from the audience.

Thats Magic !!!



Replacement PVC storage Case
Replacement PVC storage Case available in the magic accesories section.
JUST A FEW COMMENTS FROM BUYERS ABOUT RABBIT RAMPAGE:

Hi there, I just wanted to say a very big thank you for the Rabbit Rampage effect. It arrived the next day by special delivery as promised. I used it just 2 days later to a school party of .......... "200" children ranging from Nursey to Year 2 and my ears are still ringing from all the screams telling me when Rodney kept peeping out! Thank you again. Kind Regards


Sean Casey-Poole - Mickey Take (England)


Hi Razamatazz
I just received my order and opened Rabbit Rampage. WOW! What a package! If I never did the routine it's worth every penny! Being one that packages and sells products, let me say KUDOS on a job well done! All the best!



Tim Sonefelt (Wonder imagery USA)


Well i have just received my Rabbit Rampage and my first impressions are.... OH MY GOD... it is visually stunning and extremely well made. Worth every penny


The Magic Works (England)


Got mine saturday morning and I have used it 3 times this weekend - looks amazing and plays equally as well as farmyard frolics and whos who at the zoo - but with bang up to date graphics and thats what I for one want. Money well spent, and its not often I say that about magic props - I buy props only to sell them again after a short while, this however is a winner!


Dizzie Lizzie (England)


Hi, got mine today it's brill .and only orded it yesterday at 3pm and was at my door 8-30am today what service: we as childrens entertainers will always support and buy props like this, the art work is stunning thank you Razamatazz magic for making my day


Jimbo (England)


Hi Razamatazz,

Rabbit Rampage thundered into my mail box safely today. With our exchange rate it makes your products expensive BUT I am delighted to pay the cost. I now have Rabbit Rampage and Santa Surprise. They are both pure gold for a children's entertainer. You are bringing children's magic out of the clutches of the drab postwar 1950's.
Thank you. One very happy customer.



Julian Mather (Austrailia)


Got mine delivered on friday morning and it was in a birthday show that day I was that impressed. I found that it played really well I have used who's who at the zoo for years and It has always got the reaction i wanted. The new trick gave me every bit as much and it is bigger and brighter and seriously up to date. Its worth much more than it cost every day of the week. I like the price because it stops the average joe buying it as they can have an older out dated alternative that does the same thing at a fraction of the price


James Kennedy (Scotland)


We used Rabbit Rampage the day after we received it. The kids and adults loved it and we even had a round of applause after the routine !!! There is so much fun to be had with the prop and it looks stunning people even came up to us at the end of the show and said how good the trick was and how did the rabbit get into the hat ? keep up the good work Razamatazz magic, we can't wait for you to release Santa's surprise. Wishing you the very best in all you do. Magical Wishes


Derek & Suzanne - Kidstme (England)


I Just took delivery of my order today, terrific service, thank you very much ....................... I love the bright colours and the images, having used the 'old' Farmyard Frolics for years, this will go straight into the show. Magical Regards


Sean Brannigan MMC (Ireland)


Razamatazz are going to finally bring UK magic into the 21st Century. I love the look of "Rabbit Rampage", superb graphics. But as a pirate, I can't use that - "Santa's Surprise" will work for me though, so I was delighted to get my hands on a set. This is the most beautiful version of "Farmyard Frolicks" yet. Also, there is more logic than in other versions, as well as a nice touch that you can turn the folder around and the kids won't see the Santa cut-out at the back. Keep your eyes out for this company - I feel sure they are going to wow the world of kids' entertainment with lots of very cool effects!


Doug - The Potty Pirate (England)


Received Rabbit Rampage today. Can't believe it only took such a short time to get here. It's absolutely beautiful!


Slydini (USA)


I've just received my Rabbit Rampage thank you for such a quick delivery. I thought I'd drop you a line to say how very impressed I am. I used to use Who's Who at the Zoo so I know how strong the fomat plays with the kids, but mine got a bit tatty and I felt it looked a bit old fashioned and I've been looking for ages for a replacement, I wanted something different and better. Well Rabbit Rampage fits the bill perfectly, it's so well made and the graphics are terrific and it's well worth the wait, I look forward to putting in my show


Clive "Emazdad" Hemsley (England)


I ordered rabbit rampage on Friday 12th and received it via airmail today! That's 4 days turnaround from the UK to Hong Kong - amazing service!!! The trick is also absolutely STUNNING! The graphics are superb and the animals literally 'leap' off the card at you! It really brings Farmyard Frolics, Who's Who and Pet Store Pranks into the 21st Century!!! The ending is also very ingenious...and provides a fitting climax to a timeless trick! I am hereby a fan of Razmatazz Magic for life! I was so impressed that I actually called Andy long-distance just to praise him and thank him for updating this classic and releasing it to the magic fraternity. I will surely place an order for the Santa version (just in time for Christmas) and eagerly look forward to the coming attractions! For all of you still 'on the fence'.GET RABBIT RAMPAGE!!! It's a "No Brainer!"


Magic Bern (Hong Kong)


I have to say I have bought both Rabbit Rampage and Subsequently Santa's surprise. Both look stunning and visual. They are well packed in a plastic case and play big.The quality is brilliant too. They have certainly thought this through. Razamatazz are offering a great new look to childrens magic props, and are thoroughly nice people to talk to. I can not wait to see what they produce next


Dr Pop (England)


I'm so totally impressed by Rabbit Rampage, it will take pride of place in every show I do from now on. The quality is excellent and the artwork is fabulous. The updated ending is pure magic - the kids are going to love every minute of it! I look forward to buying Santa's Surprise next knowing that Razamatazz will have done an equally fine job on that too. Can't wait to see what future products these guys are going to come up with!


Jonty the Magician (England)


Just used Rabbit Rampage in my latest show on the cruise ship I am working on. It went down a storm everyone loved the look of the prop. many thanks


Bob Pamplin (England)


Thanks very much for a super fast delivery and one very exellent effect. When I got the package Saturday I could not believe the packaging, the cards, in fact all of it was absolutely fantastic. The best bit 100% British made quality I can't wait to get the santa effect. I want to pass your name around but also want to keep Rodney to myself for a while to create something new that other magicians don't have in Brighton.......but I will if pressed.. I absolutely love the routine and haven,t put it down yet, it blends so well into the funky monkey routines.Thanks again for something fresh and new


Stephan - Funky Monkey (England)


Hi Razamatazz. Just wanted to say a HUGE THANK YOU for this truly fantastic effect. I have not had a really full play with it but will later as I will be using it tomorrow !!!! It looks sensational, and the smaller version is perfect for popping in your wallet for weddings! Thanks again, kindest regards


Martin Sanderson (Gold Star Member of The Magic Circle) (England)


Hello!, Today the items are delivered, thank you so much!!! This are the most beautiful cards I have ever seen.....Best Regards


Robert Ganahl (Austria)


Just a quick note to congratulate you both on producing such a first class product ! Absolutely fantastic graphics ! First Class Service, First Class Product Ė Well Done guys, good luck for the future. Kind regards


Russ Stokes (England)


Razamatazz, it's hard to top what has already been said but i have to say that Rabbit Rampage is the best children's trick i have ever seen. Many Thanks


Mr Tickles (Cornwall, England)


Fantastic service from Razamatazz. My order arrived in less than Twenty-four hours - super quick delivery. The items I've brought are wonderfully made, beautiful quality and are sure-fire winners with the kids. It's nice that they actually all come in their own protective cases, to keep them in prestine condition, great idea. I can't wait till Christmas to start using my Santa's Surprise. Thanks again for the great service and I look forward to buying more from you in the future


Andy Kirk (England)


I received Rabbit Rampage on Saturday. Youíve put out a superior product! Everything about it is first class. The art work, quality, etc., is spectacular! Even the package you post it in is excellent. I donít have to find a carry case for it, as what you sent it in is perfect. :o) This is going to replace a trick Iíve been doing for years that had a bunny named Randy. Iím so used to saying Randy that I can still use the name because of the big ĎRí on the bunnyís top. :o)
Iíll be ordering the Santa version ASAP. Thanks again for such a fantastic product!


Franc Karpo (USA)


This is just brilliance, modern and yet traditional!
By now most people know how great the trick itself is, however Iíd like to further my praise to Andy and Sue personally for outstanding customer service.

They were away for two weeks but must have dispatched Rabbit Rampage the second they returned home,
I received it in superfast time and their communication was brilliant.

Product = 10/10 Ė Customer Service = 10/10.
Returning customer? Definitely!



Krisgar Entertainments (England)


Hello Razamatazz:
I just wanted to send you a note to tell you how pleased i am with my Rabbit Rampage. The visuals are in a class by themselves. I also like the larger size. Perfect for stage, but small enough for easy transportation. I can do this one anywhere. I very much like the ending as well. Worthd every penny. Best Wishes,


Magical Entertainer Vincent (Toronto, Canada)

---
You might also like to consider:
Another Razamatazz Magic exclusive. Where's the Rabbit is a very easy and self working trick, where a spectator correctly finds the Magic Rabbit or make your own routines.
Another Razamatazz Magic exclusive. A spectator is totally baffled when a chosen card matches another identical card in the packet even though every other card is different ??? Very easy self working trick where a spectator finds the same chosen card as the magician.
Santa's Surprise is a great trick for the festive season for childrenís entertainers. Christmas version of the Rabbit Rampage set but with Christmas characters where Santa vanishes and appears in a funny comical routine with a different ending to the original.
Another Razamatazz Magic exclusive. Potty Painting is a New exciting modern magic painting trick where the magician magically makes a blank birthday card turn in to a full colour birthday card to give to the special child. But it's not that easy as the trick it goes horribly wrong with lots of laughs !
Crazy Candy is a fantastic new magic trick for children's entertainers that is great fun, very easy to perform and designed with the same high standard as existing Razamtazz Magic effects.