News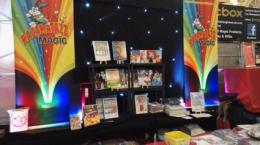 WELCOME
Blackpool


The Razamatazz Team had a great time at Blackpool. It was great to meet new and old customers.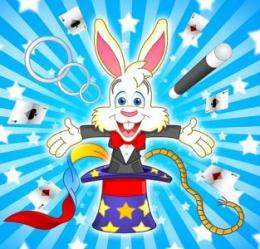 New magic rabbit silk set now released
Our new beautiful set of 5 silks with comedy magic rabbit design now available from Razamatazz Magic


Click Here for our Exclusive Magic Rabbit Silk Set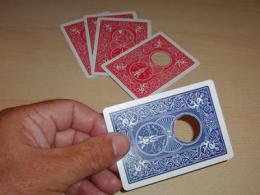 Our best selling trick SLICED ... New poker size version
Finally we have just released one of our best selling tricks as a Bicycle brand poker sized version to easily fit in a wallet, ideal for close up !!!

Click Here for more info on SLICED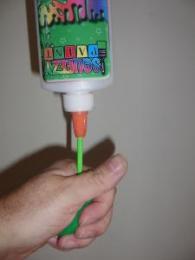 Squeezy paint available again
After selling out of Squeezy paint in 2012 Razamatazz Magic are proud to offer their great painting effect again for 2013.

Grab a Squeezy Paint now while stocks last, exclusively from Razamatazz Magic. Come and see it demmed at the Blackppol convention.

Click Here for our new Squeezy Paints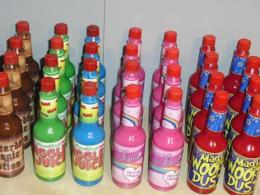 New Squeeky Bottle Range Launched
Razamatazz Magic have just released a new range of magic squeeky bottles to use in your magic shows. Several designs are available including:

WOOFLE DUST
GIGGLE JUICE
PIXIE DUST
WIZARDZ POTION

& now the NEW CHRISTMAS MAGIC version.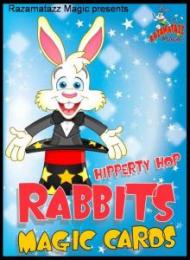 New Hipperty Hop Rabbit Cards
Razamatazz Magic will be launching their new Hipperty Hop Rabbit cards at Leamington day of magic. More info soon.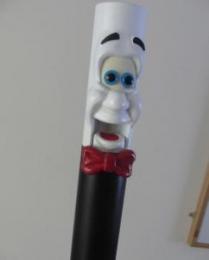 New low price PUPPET WAND
Our latest project is a new affordable puppet wand. This is based on our popular puppet Walter Wand but more simplified construction with mouth movement only. This will bring the cost down to a more affordable price so that even more magicians will be able to take advantage of this great magic prop. The prototype is finished and now getting ready to produce and will be on sale very soon.

The new version is larger, (altough a little shorter) chunkier and more solid and should be more robust than before. For more info and larger photos please visit the Razamatazz Magic facebook page.

Click here for the official Razamatazz Magic facebook page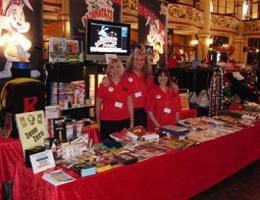 Blackpool Magic Convention 2012
We had the best time ever at the Blackpool magic convention. This has to be the most successful and best run convention in the world. Met up with many magic friends and watched amazing magic acts from around the world. Had a great time on our stand with Heidi and met many new customers. Special thanks to Arthur Casson and his lovely wife for looking after us so well. We look forward to returning in 2013, see you there !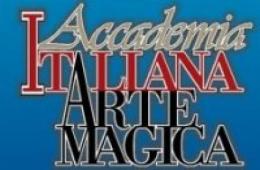 Rabbit Rampage now available in Italy and Belgium
Razamatazz Magic are pleased to announce that our products are now also available in Italy and Belgium at the following magic suppliers:


www.accademiamagica.com in Italy

The Mike Leroy Shop in Belgium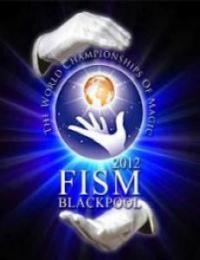 FISM 2012 - BLACKPOOL 9th - 14th JULY
The Federation Internationale des Societes Magiques ( FISM ) 9 - 14 July 2012



Where it's all happening

Razamatazz is proud to announce that they will be attending the FISM convention in Blackpool 2012. For more information on this amazing convention please see below.

FISM 2012 will be based around three main venues,

The Opera House with a seating capacity of 3,000,
The Grand Theatre - seating capacity 1,100 and
The Tower Ball Room with a seating Capacity of 4,000.

The FISM World Magic Championships of Magic will be held in Blackpool between 9 - 14 July 2012. A registration form for this fantastic event can be downloaded from the Blackpool Magicians' Club website.




Click here for the official Blackpool magicians club website



FISM holds the convention every three years, The Winter Gardens, tower and Grand Theatre will all host magic events in 2012

Master magician Andrew Green, who is helping to organise the magic championships, said the event would create a "great buzz" around the town, especially as 2012 is the year the Olympics are being held in the UK.

You can follow all of our coverage and news on FISM 2012 here. We will be covering more in the run up to the event. If you have any questions especially from our over seas customers etc then just email us. Registration application forms available from: The Blackpool magicians club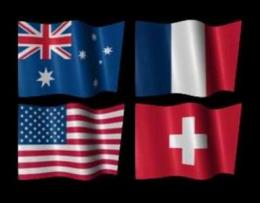 Razamatazz Magic tricks available in Switzerland, Austrailia, USA and France
Razamatazz magic items are available through the following international dealers:

The Crazy Owl, Zurich, Switzerland.

Taylors Magic, Sydney, Austrailia.

Hocus Pocus, California, United States

La Boutique De Illusion, St Martin de Crau, France.



EVENTS RAZAMATAZZ MAGIC HAVE ATTENDED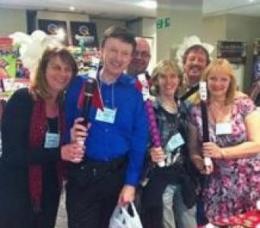 IBM CONVENTION SOUTHPORT 2011
Great to meet up with all of magic friends at this convention. We had a great time. It will be held at Great Yarmouth next year so we will not be able to attend but hope it is another success.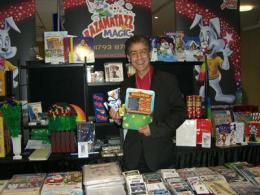 HENRY MAYOL
It was great to meet french magician Henry Mayol at the Southport convention. He was a really nice guy and loved our products ! Here is Henry with Rabbit Rampage.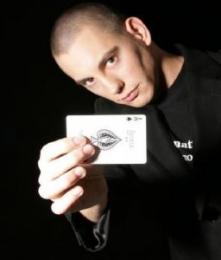 RAZAMATAZZ MAGIC REVIEW BY MATT PARRO

There were 2 stands that both me a Stuart went to at the IBM Magic Convention, Eastbourne that impressed us and had a really good chat with the people on there!

First off was Razamatazz Magic, I do not perform 'kids' magic but if I did this is where id be buying from.

These are MODERN !!! Yes I said the word all magicians seem to hate! These are modern looking tricks!! Which are made from quality materials. BIN that 1960's looking rabbit and get one of their props! You will not regret it! -

Matt Parro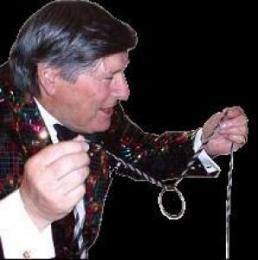 RAZAMATAZZ MAGIC REVIEW BY JOHN DERRIS

I came across a dealer stand selling the most incredible children's effects. Not necessarily the magic but the graphics used on the cards and items they produced.

With pictures and cartoons of rabbits, etc that were absolutley stunning and of a quality that you could believe came from the hands of the Disney studios. They were the most outstanding graphics I have ever seen in magic offered by a dealer called "Razamatazz Magic". I worked in the advertising business all my life and I tell you truly the sheer quality of their product was outstanding.

The proprietors told me they had commissioned top illustrators in the business to establish this high level of product. I am not into children's magic so I have no axe to grind but I was bowled over by the best illustrated magic effects I have ever seen.
If you want to get some idea check out their web site and see if you don't agree -

John Derris

MORE RAZAMATAZZ EXCLUSIVES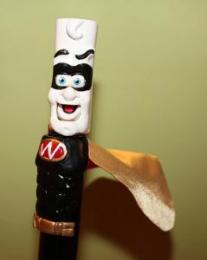 Wonder wand video
Wonder Wand video has just been uploaded and can be viewed on the Wonder Wand product page found under magic wands.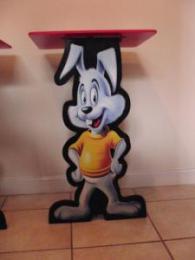 New - Fold Flat Magic Tables
Razamatazz magic can now offer a range of fold flat magic tables, the first of which is a magic rabbit Character design. For more information about these great new tables please visit the "What's New" section of the website.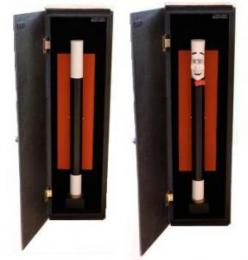 Puppet wand magic switcho box
Want to add a bit of magic to your puppet wand routine. Introducing the Wand Switcho box, launched at the IBM at Southport.

The magician opens up a wand case that they store their special magic wand in. Removes the wand and uses for a trick. It is then replaced into the case and door shut. Next time the magician opens the case the wand has magicially changed into a puppet wand. Of course the magician does not notice the change but the children will. Lots of fun to be had here.

The case will switch any of the Razamatazz magic puppet wands, so you can place Walter wand into the case and he changes into the clown wand OR place Walter into the case and he changes into the Super hero wand OR change the puppet wand back to a normal wand again !!! Very easy to use.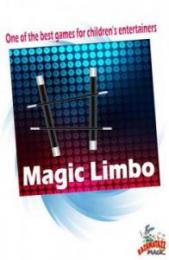 Magic Limbo
Magic limbo has been launched and are a big hit. Razamatazz Magic have updated the limbo game and themed it with giant magic wands and a jumbo magic cloth. Has other many uses including as a backdrop to use with puppets or a great prop to use with the third hand etc. We only have a couple of magic limbos left in stock as they have been really popular.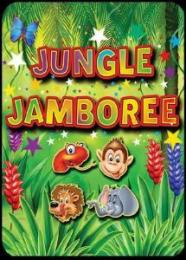 Jungle Jamboree
New video uploaded to our website



See more of this great game and hear a clip of the actual music and game sound effects !!!

Also a special version of this game is now available to use with the Amazing Magical rabbit.

The tracks are all provided for the rabbit to present the game. The performer plays the music then when the music stops the rabbit makes the sound of a jungle animal. All the children then have to run to the correct animal picture (supplied with the game)

For more information on the Jungle Jamboree game please go to the games section on this website.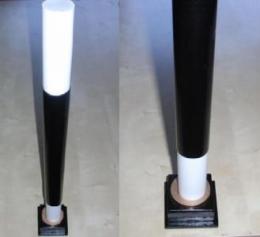 New Dummy Wand
Razamatazz Magic has just released the new Dummy Wand to use with the puppet wand series. This allows the performer to switch from a normal wand to the puppet wand at any time in the show. Made from the same materials as the puppet wands and exactly the same size, it will fit into the puppet wand base.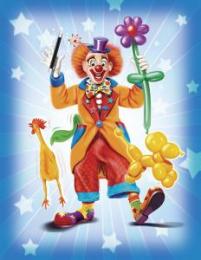 New Potty Painting card set
New for 2011




We are working on several new tricks and ideas and here is the latest item, a new Potty Painting card set for the Potty Painting card.

This will be the third card designed to use with the Potty painting trick and will have a blank card, black and white card, a messed up card and finally a finished stunning magic clown card to give out to the special child.

Sadly it won't be ready to launch at the Southern England magic convention in Bournemouth at the end of January but we will have lots of other new items.




WALTER WAND balloon model

Imagine performing with Walter Wand in your show and then giving all the children a Walter Wand balloon model to take home at the end.

Well soon you can. Walter Wand balloon model designed by our good friend Shirley Ray will soon be available on this website for you to download. Shirley is famous for her amazing balloon creations and she features in many balloon modelling publications throughout the world.

Coming soon.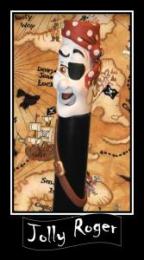 JOLLY ROGER animated pirate magic wand

Yet another design for our fantastic new range of animated wands from Razamatazz Magic. The Jolly Roger wand, ideal show companion !!!
Features re modelled design with eye patch and pirate features, this is THE wand for any PIRATE themed show !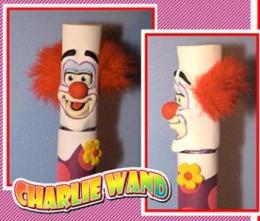 CHARLIE CLOWN animated magic wand

Yes the next in the fantastic new range of animated wands from Razamatazz Magic is here, Charlie the clown wand, your ideal show companion !!! Features re modelled design with clown hair, comedy flower and large red clown nose. Charlie is THE wand for any clown show !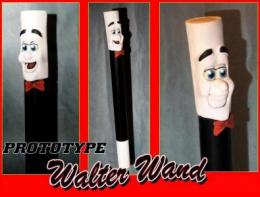 Fantastic new item WALTER WAND

Here is a fantastic new item from Razamatazz Magic

You have never seen a magic wand like this before. Walter's head moves left and right, mouth opens and shuts and even his eyes open and shut. Idea for venting or if you cant vent then just have Walter wand whisper in your ear !

Walter is a large JUMBO sized wand but very light in weight so can be used like a normal wand by any child. There is only going to be a small number available to start with so if you are interested then please email to be added to the list. Be sure you dont miss out on this one ! See childrens catergory for more details. More info, price and availaibilty to follow soon !


Best wishes - Andy & Sue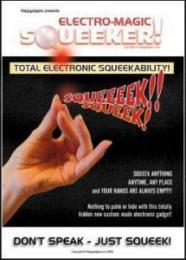 Great new product !!!
Introducing Electro-Magic Squeeker V.2


A purpose built electronic unit which will enable you to SQUEEK anytime,
any place and anywhere. Totally hidden, takes less than a minute to set-up, you're always ready to Squeek all day.
Now you can perform the classic Squeeker gag with your hands totally empty ! Imagine being able to make anything you touch, press or squeeze - SQUEEK!!!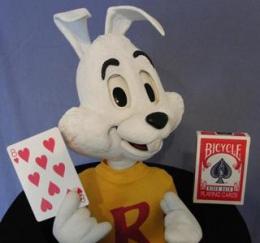 The Amazing Magical Rabbit
New video demo



We have just uploaded a video for the Amazing Magical Rabbit to show how the prop works. It shows how the rabbit moves, talks and even firing a silk and playing card from the hat.