About Us
Welcome to Razamatazz Magic. Home of new modern exciting children's magical effects.
Razamatazz magic, set up in 2008 to develop new and exciting magic tricks with a modern twist. These effects will be available to buy direct from Razamatazz Magic. Everything has been tried and tested in their own hugely popular shows and guaranteed to be hit in any children's act. Their goal is to bring you new tricks and a new modern style that ACTUALLY entertains an audience and especially children. Razamatazz magic is now under new management but rest assured we want you to be as excited as possible to tear open your package and explore each of the effects. The new team are excited and determined to ensure we continue to bring quality and new tricks to entertainers and the public.
Children are in a world of their own. To succeed with them you need to forget all the sleight of hand you learned. Children don't just want to see clever miracles, they want to be entertained. So all Razamatazz Magic tricks are designed to create Laughter and Enjoyment based on everything children love.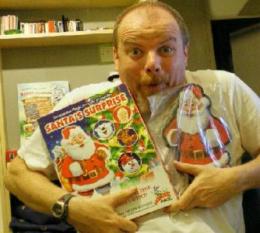 Bob Baker
Bob Baker - Good friend and Razamatazz Magic prop designer. Bob is a very creative guy and always at the end of a phone when we need him. We are currently working on several new tricks and Bob has been very helpful with his creativeness on these projects. It is always a pleasure working with Bob and look forward to more brainstorming !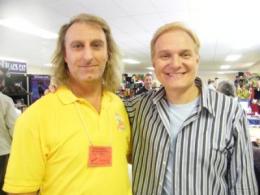 Jeff Hobson
Andy with the amazing Jeff Hobson.